Students from UQ's Schools of Music, Architecture and Information Technology and Electrical Engineering came together to surprise and delight visitors to the 2019 UQ Bloom Festival in October with a series of interactive installations.
Visitors had the chance to walk amongst the installations and experience the bright coloured lights, music and soundscapes, and the beautiful and unique forms that the students had created.
The students drew inspiration from the natural environment, sustainability and the theme 'imagination', and Architecture Lecturer, Dr Fred Fiahlo Teixeira said the focus was around designing beyond boundaries.
Interaction design expert Associate Professor Stephen Viller said exhibiting the installations over the week-long 2019 UQ Bloom Festival provided students with the opportunity to watch how their audiences interacted with their creations.
"The students were able to grow their understanding of how audiences expected to use the spaces and took the time to tailor the experiences throughout the week."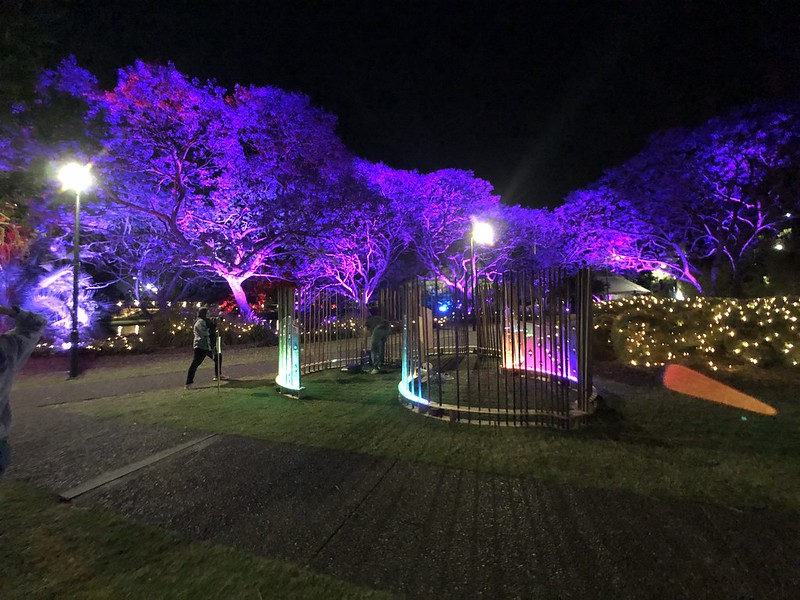 "For example, they watched people walk into the centre of E-Motion and twirl around, expecting the lights and sound to interact with them, so the project team re-coded their sensors and deployed another iteration the next day that provided the immediate immersive response people were looking for – and the audience loved it!"
Senior Lecturer in Music Technology Dr Eve Klein said by working together across the music, architecture and interaction design disciplines, and learning from academics outside their usual fields, students were able to craft installations much larger, more immersive and more ambitious than could be achieved working with one approach alone.
The installations:
Undulate
Undulate was centred around a rising and falling timber sculpture with embedded visual and audio elements. The installation followed social media posts related to the UQ Bloom Festival, driving the lights and sounds based on sentiment analysis of the posts.
E-Motion
E-Motion harnessed data relating to how people arrive on campus (walking, cycling, public transport, private vehicles) as a basis for visual and sonic displays around a continuous screen wall. Sensor-based and physical interactions allowed audience members to explore different visual and sound experiences related to the transit data.
Floral Symphony
Floral Symphony featured a series of interactive blooms constructed through 3D printing with embedded speakers, lights and sensors. Audience members were able to generate visual and sonic performances through gestural interactions with the blooms.
#uqbloom #uqlife