Virtual reality will allow the public to take a journey through Brisbane's oldest standing structure, thanks to University of Queensland researchers.
Using 3D scanners, a group led by the School of Architecture's Dr Kelly Greenop has recreated the experience of exploring Brisbane's Windmill Tower, built by convicts in the 1820s.
Dr Greenop said the project would give the public access to a building that is nearly 200 years old and is rarely open.
"This is a really great way for people to get a taste of it," she said.
"It might not be the same as going there, but people can get a good impression and see what it's really like inside."
The building is four stories tall and has steep staircases which make it difficult to navigate.
Its walls are lined with pencil graffiti, dating back more than 100 years.
Master of Architecture student Jay Stocker and PhD candidate Pat Manyuru managed to recreate the current structure as well as a second version which features the building restored to its original form – complete with the windmill's original mechanical workings.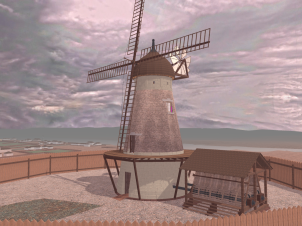 "We've made the colonial version from back when convicts operated a treadmill to process wheat and corn crops," Dr Greenop said.
She said the team has worked to capture every texture and detail to ensure the recreation is as accurate as possible.
"It's really important that it looks realistic so it's not only authentic, but historically useful.
"This is just one way we can use digital infrastructure as a way of exploring the past, present and future."
The project will be showcased at Brisbane's Open House Weekend on October 13th and at a historian's workshop on October 5th.
The group would like anyone with any additional information or who might have old plans of the tower to get in touch.
Image above left: View of the reconstructed windmill
Media: UQ School of Architecture, Master of Architecture Student, Jay Stocker, 0400 075 300; UQ Communications, Paige Ashby, p.ashby@uq.edu.au, 0430 511 615.