Artwork title: Hills
Artists: Dan Luo (UQ), Weixin Huang (Tsinghua)
Artist statement
The spatial installation, Hills, incorporates the traditional Japanese bamboo weaving technique known as Kagome into a surreal scene of urban landscape. The hexagonal weaving technique known as "Rokuro Kagome" in Japan, has a rich history in many cultures. It interlaces strips of natural materials to form a strong and visually striking hexagonal pattern. The design of the installation mimics the organic geometry of rocks and hills in natural landscape defined by Kagome weaves. Via digital design, the installation achieves a level of complexity, scale, and precision beyond traditional weaving craft alone. The resulting structure is a captivating surreal landscape scene interplay between traditional craftsmanship and futuristic structure, creating a sense of harmonious balance between the natural and the digital.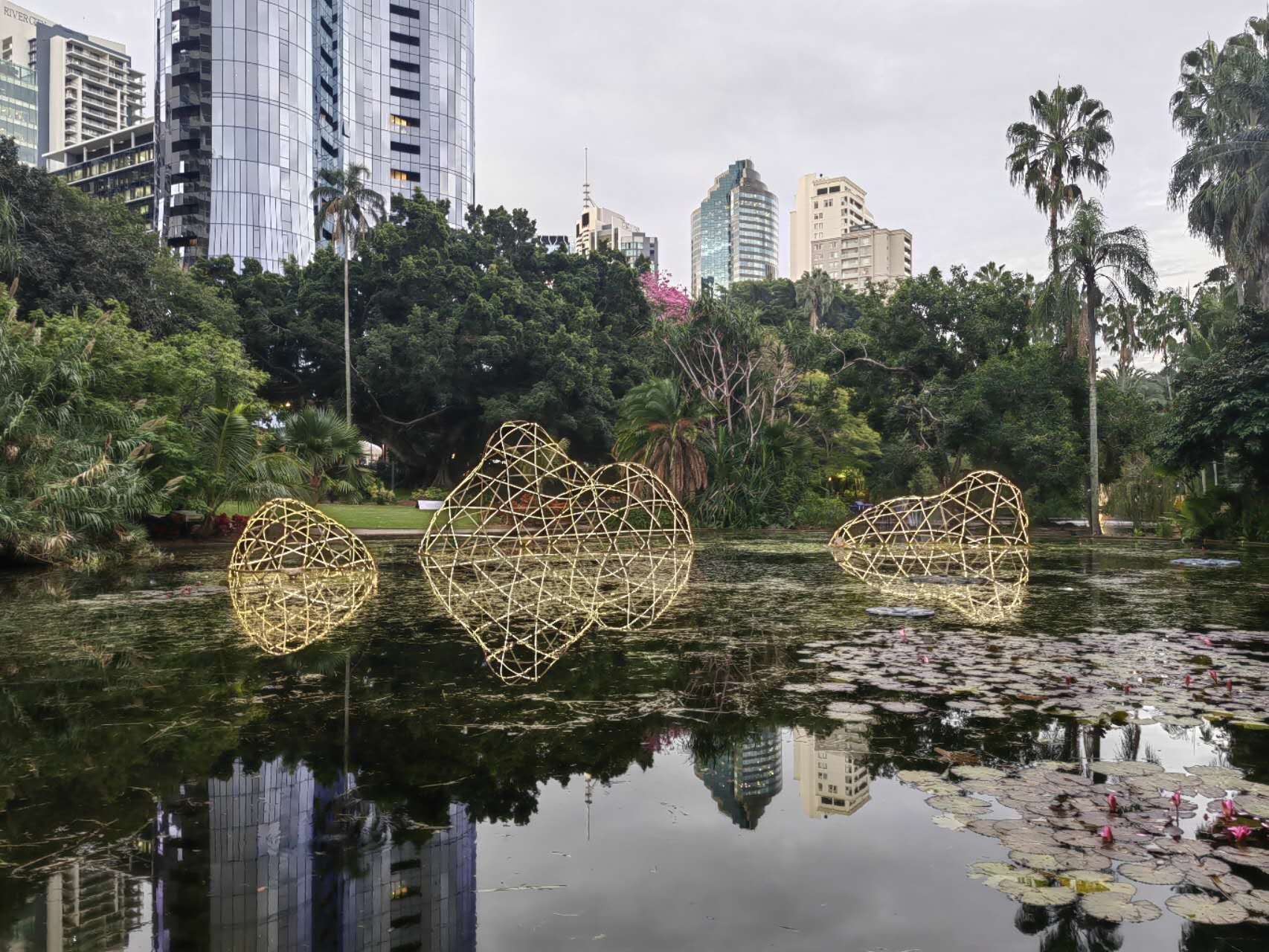 Creative Team: M.Bahremandi, I.Chen, K.T.Sze, T.R.Zhang, F.Zulkhibri
Engineering: Z.Y.Xin
Electrical: A.Lagrosa, X.K.Li, M.Marker, Isaac Thorburn
Contributors: T.Beard, L.Z.Fan, Y.Z.Guo, Y.C.Han, Z.Y.He, Y.X.Huang, L.Jauncey, Y.Q.Jia, E.King, X.Y.Lin, K.Milan, Z.X.Qiao, E.Raya, X.Y.Shen, M.Tang, T.Wang, S.Watney, Y.Wu, J.Y.Zhou, Y.T.Zhu
Special Thanks for the support of UQ Innovate and Architecture Workshop
Botanica: Contemporary Art Outside 2023 will be available between 12 - 21 May 2023, 5-10pm. Find out more on the Brisbane City Council website.