Artist statement
Urban Totems is a spatial and visual installation that integrates timber structures and three-dimensional video mapping engagement to express idiosyncratic, digitally-manufactured symbols that serve as emblems for diverse groups of people. These are purely symbolic, digitally-manufactured, timber structures that question the ecologies of space and material of common urban highrise typologies. Audiences are invited to engage in active observation through an array of structures and a visual narrative of the design process. Urban Totems is an opportunity to experience the digital beauty and ecological importance of timber and the diversity of novel design processes and its significant connection to Queensland. Physical models of data-driven, tall, timber structures on the one hand, and physical models and videos of robotically-fabricated, parametric, timber walls, on the other hand, represent the potential of using timber towards a more sustainable future, respectively indicating the pre and post-craft phases for future timber structures.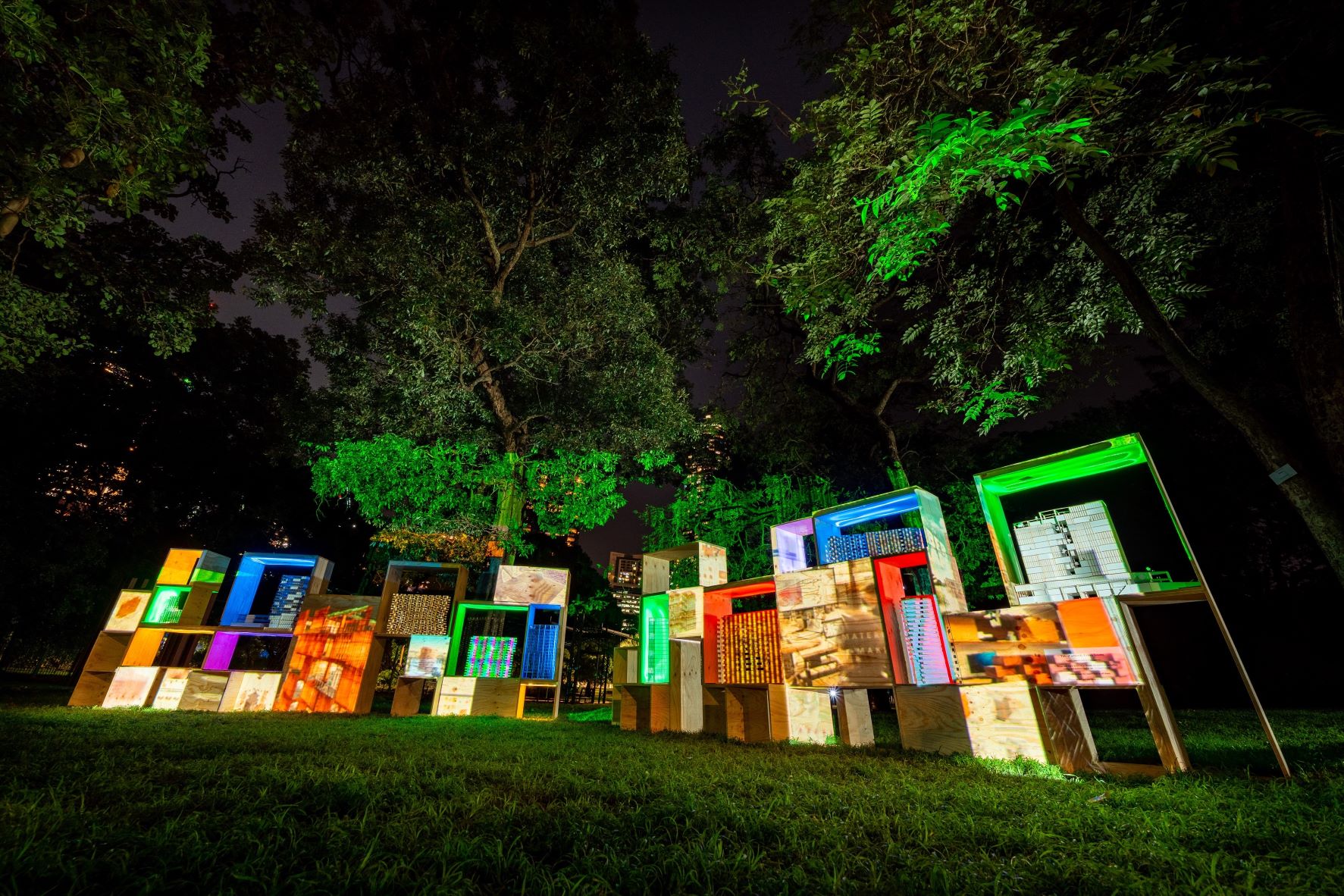 Urban Totems, Kristina Knox, Maryam Shafiei &  Shaden Aldakheel. Botanica – Contemporary Art Outside 2022. Image: Bec Taylor
Materials: Timber (plywood), LED lights, acrylic panels, steel angle brackets, screws, animated three dimensional video mapped projection
Additional creative team
Dr Fred Fialho Leandro Alves Teixeira and University of Queensland students
Acknowledgements
This project is generously supported by the University of Queensland.
Biographies
Kristina Knox
Kristina is a PhD candidate from University of Queensland in the field of interactive space design. Her research is focused on interactive space design, spatial communication, and spatial agency in shaping user's perception. She is involved in teaching activities in UQ Architecture including course coordination, tutoring and teaching.
Maryam Shafiei
Maryam is a postdoctoral research fellow at the University of Queensland. Her experiences span design and sustainability themes in architectural and urban scales, as well as topics in computational design and robotic fabrication in architecture. Since 2016, she has actively contributed to teaching and research efforts at UQ Architecture.
Shaden Aldakheel
Shaden is a PhD candidate at the University of Queensland. Her research interests include interaction design, emerging technologies, interactive space design, collaboration, human-computer interaction, and virtual heritage. She has a background in interior architecture and interaction design with professional and academic experience in the field of design.