Maryborough Queensland Fire and Emergency Services (QFES) Complex is the first building of this type built in Australia using engineered timber solutions. Designed by Kim Baber of Baber Studio, an academic based at UQ's School of Architecture, the complex showcases interdisciplinary collaboration within the Centre for Future Timber Structure (CFTS) and with the timber construction industry.
As part of CFTS's contribution to the project, a moisture monitoring campaign of the innovative CLT buildings was set up and recently started by researchers from UQ's School of Architecture (Dr Paola Leardini) and the Department of Agriculture and Fisheries' Forest Product Innovation (FPI) team (Dr Maryam Shirmohammadi and Mr Daniel Field).
Maryborough Fire Station's new buildings include an admin building, an engine shed, a new data room and a gym section added to the original front brick building, which are made from Australian engineered wood products (EWPs). The EWPs used in the new buildings include cross-laminated timber (CLT), glued laminated timber (glulam) and lumber glue-laminated (LGL), as shown in the images below. The building is currently under construction; thus, it offers the opportunity to investigating hygroscopic characteristics of EWPs and their moisture variation during and post-construction.
The collaborative UQ-DAF monitoring project focuses on potential moisture gain and loss of CLT panels and other EWP structural members due to free water exposure (flooding, heavy rain and plumbing leaks) and high humidity environments. This project's outcome will enable future protocol development for mass timber building design and maintenance, focusing on structural stability, decay management and prevention.
In January, the UQ-DAF team installed wireless moisture monitoring sensors in the Maryborough Fire Station buildings to monitor potential variation in moisture during different phases of the building life. The sensors are installed in moisture sensitive areas of the building, including those near to openings (windows, doors) or with high-temperature variations (roof cavities and external surfaces), as well as panels and beams exposed to both internal (airconditioned) environment and external conditions. The project aims to develop a detailed understanding of humidity variations during the year, and the effects of indoor and outdoor environments on panels' characteristics, focusing on minimising the extended period of high moisture content that could lead to decay. The project is jointly funded by UQ's CFTS and DAF.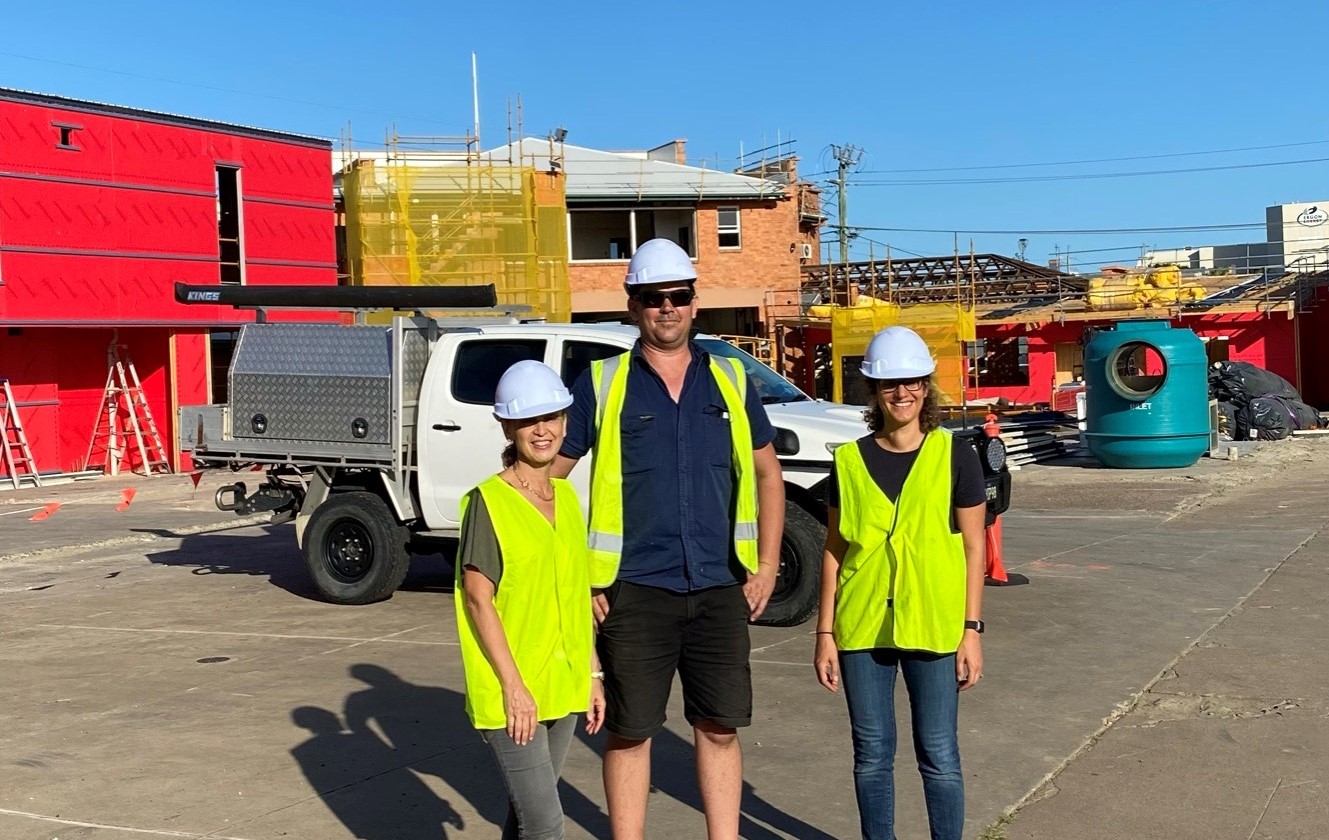 Research team at the Maryborough Fire Station: Dr Paola Leardini of The University of Queensland, Mr Daniel Field and Dr Maryam Shirmohammadi of the Department of Agriculture and Fisheries' Forest Product Innovation team.