The University of Queensland, Australian Embassy Beijing, Austrade and Swayn Centre for Australian Design at the National Museum of Australia have created a new type of exhibition experience in response to COVID-19 restrictions.
The Living in the City: Australia-China Conversations Through Architecture exhibition is a unique online exhibition that celebrates Australian architects and the contribution they make to global culture, development and engagement.
Opening during China's 2020 Extraordinary Australia festival and closing in March 2021 during Brisbane's Asia Pacific Architecture Festival, this exhibition will take participants on a journey through 30 compelling architectural projects across the two countries.
A survey of the work of Australian architects in China was conducted in 2019, and this exhibition builds on the survey's findings to showcase how Australian architecture helps support and grow business, how it shapes communities, how it heals, educates and nurtures the individual and delivers tangible aspects of government policy.
Professor Cameron Bruhn, Dean and Head of the School of Architecture at UQ and curator of this exhibition, said the project highlighted the shared architectural opportunities and challenges in Australia and China.
"Australian architects play a critical role in the shaping of cities across the world, particularly in China, and this exhibition creates a platform for future interactions and international partnerships to emerge," said Professor Bruhn.
"Living in the City goes beyond the simple idea of exporting professional services – of Australian architects desgining buildings in other countries – and highlights new modes of architectural practice that are neither Australian nor Chinese, but a fusion of the two.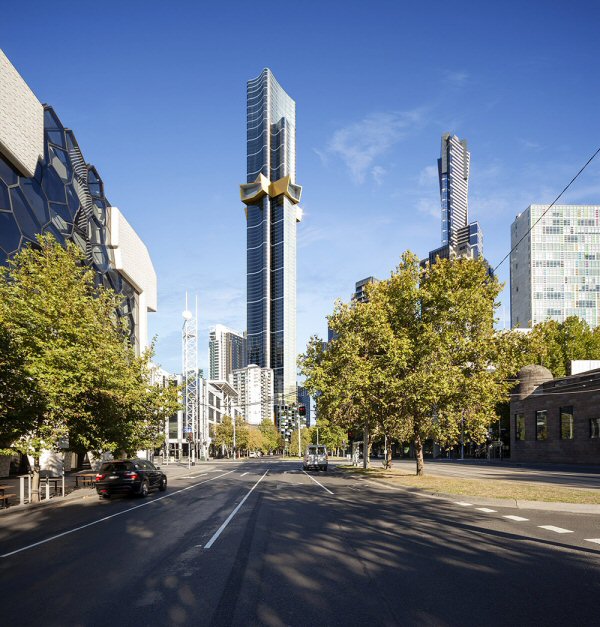 "I'm also fascinated to see the way major Australian cities have been shaped by investment by Chinese property developers and how Australian architects have adapted the way they work to position themselves as global players in the built environment industry."
Projects in the exhibition are presented in pairs to highlight shared issues between Autralia and China, like how to negotiate the relationship between density and amenity, mixed-use urbanity for growing cities and reprogramming architecture for community benefit.
The exhibition aligns ingenuity and expertise in Australian architecture with the emerging investment in public and community projects by provincial and municipal governments in China.
Featured architectural projects include Australia 108 in Melbourne by Fender Katsalidis (pictured); Ace Hotel in Sydney by Bates Smart; the South Australian Health and Medical Research Institute in Adelaide by Woods Bagot; Luxe Lakes Towers in Chengdu, China, by John Wardle Architects; Landsea Green Centre in Shanghai by Decibel Architecture; and National Speed Skating Oval in Beijing by Populous.
See the digital exhibition online at swayn.design/livinginthecity
For images, interviews or more information, please contact: Genevieve Worrell, UQ Communications, +61 408 432 213.