Knowledge of traditional hand-weaving techniques helped students from The University of Queensland to produce large-scale woven structures that will assist communities in transforming abandoned sites into vibrant informal urban greenspaces.
Made from sustainably sourced bamboo, each installation will have a bespoke design to suit its location, including a selection of local plants to grow on and around the structures, creating truly unique landscapes.
UQ architecture masters students recently joined Lecturer, Dr Dan Luo, and Digital Craft researcher, Jo McCallum to assemble the first of the bamboo structures on campus at St Lucia.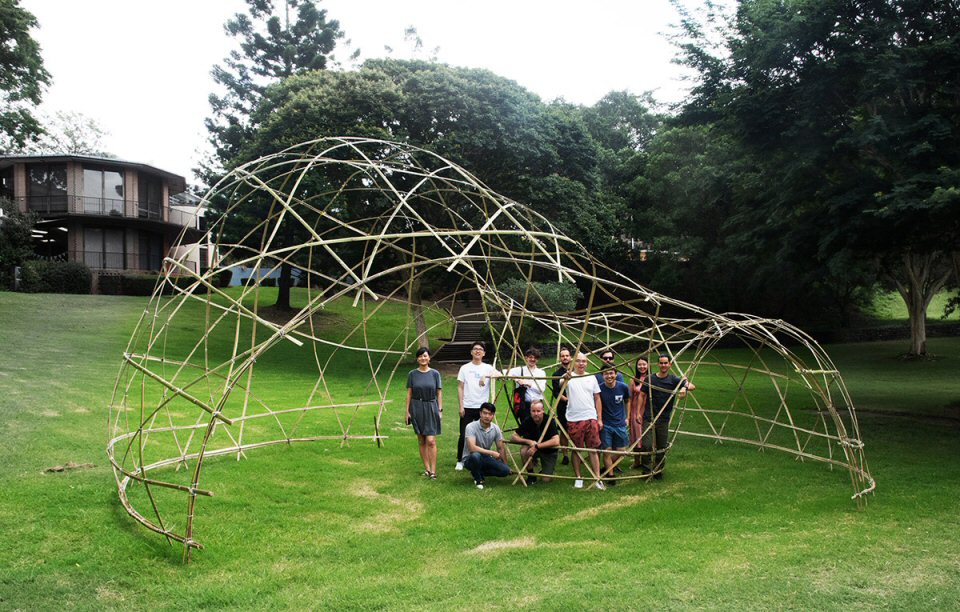 "We began by exploring traditional weaving techniques and creating baskets, bowls and other three-dimensional shapes from plastic strips, learning the importance of triangular locks and interweaving strips under and over one another for support," Dr Luo said.
"We then used this to create a 3D digital model which allowed us to thoroughly analyse and test weak points of the structure."
"Obviously, the designs need to be structurally sound when built, so we wanted to test this out and add reinforcements where they were required."
The students were given the chance to get their hands dirty, as they learnt how to harvest bamboo, and cut, split, plane, mark and notch their own bamboo strips for the structures.
The full-scale structure was assembled by a team of seven over two days, and now rests in front of the Zelman Cowen building at UQ for all to enjoy and interact with.
Building upon the foundations of this spatial weaving system and material experiment, further research will be conducted by the students individually as they use their first-hand knowledge of bamboo structures and weaving techniques to propose their own design interventions in new locations in Australia, China and America.
The team gratefully acknowledges the generous support of 2019 - 2020 GSAPP Incubator Prize and The University of Queensland's School of Architecture for making this project happen.
For more information, please contact Dr Dan Luo on d.luo@uq.edu.au