A timber pavilion constructed by researchers from The University of Queensland using an innovative minimal-waste design was recognised at an international conference in Barcelona, Spain this month.
The ARC Future Timber Hub team presented the timber construction to a jury at The International Association for Shell and Spatial Structures conference, beating over 20 other designs for a commendation.
The pavilion is part of a research project, conducted in partnership with Swinburne University of Technology and industry partner Hyne Timber, that aims to minimise construction waste through an approach called 'inventory constrained design'.
UQ School of Architecture Research Fellow Kim Baber said the focus on cutting timber wastage guided each decision in the project.
"Defects like knots, checks and splits in the utility-grade timber that we used in this project would usually render it unsuitable for structural uses in buildings," Mr Baber said.
"We found that we could add significant value to the utility-grade timber by removing the imperfections and designing the structure in a different way."
The team coupled this approach with a design process called funicular modelling, famously used by Antoni Gaudí over a century ago.

"Funicular chain models are used to generate geometry in arched structures with an inherent structural efficiency, due to the unique curvature that is the result of suspending chains under their own weight," Mr Baber said.
"Such curvature is well suited to being built using many shorter elements, which we procure from under-valued timber once the defects are removed.
"The challenge is that these short lengths of timber naturally vary in length, but by using a part-assignment algorithm that the research team developed, the configuration of the elements can be precisely mapped to the structural geometry to enable unique and efficient structural forms that are easy to construct and produce minimal waste."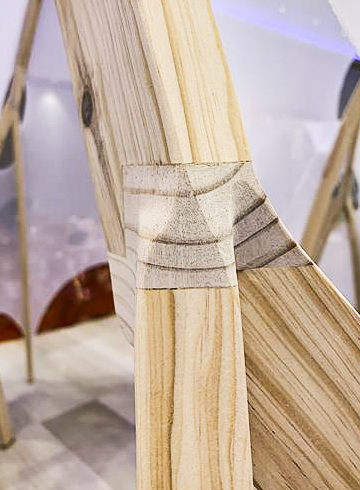 The team, including Dr Joe Gattas, Aurimas Bukauskas, Daniel Foote, Harry McCullough from UQ and Professor Jane Burry and Canhui Chen from Swinburne University of Technology, also developed unique timber node connections and a fabric enclosure for the ethereally shaped structure that received praise from the judges.
The pavilion will be returned to Australia to be exhibited at UQ and at Swinburne University of Technology.